Free Technology Magazines and White Papers
I've recently partnered with Tradepub to bring everyone free magazines and white papers to anyone who could possibly want them. They offer hundreds of free trade publications, all of which are completely free and offer valuable information that will help you stay on top of your respective industry. Be sure to browse all of the free white papers and magazines. Some of them include PC Magazine, eWeek, InformationWeek, Infosecurity, Dr Dobb's Journal, Infostor and many more.
For more than 12 years, TradePub has provided a quick and easy way to subscribe to absolutely free publications in 32 key industries – from Business to IT, Sales and Marketing to telecommunications-each is targeted toward an individual's profession.
TradePub offers more than 400 free business magazines, white papers, and webinars, all for the taking!
The first magazine that I would like to offer to you is eWeek.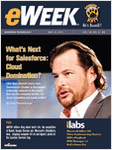 eWeek is the essential technology information source for builders of e-business. Through a combination of news, analysis and evaluation, it guides readers in making the best technology decisions for their enterprise. Focusing on e-commerce, communications and Internet-based
architecture, eWeek enables readers to successfully evaluate, deploy and leverage new technology solutions for competitive advantage.
Click here for your free subscription.
No hidden or trial offers, and no purchase necessary. Publications are absolutely free to those who qualify.
Browse through our extensive list of trade publications and technical documents by industry and geographic eligibility to find the titles that best match your skills and interests. Simply complete the application form and submit it. Publications are absolutely free to professionals who qualify.
Check out the auto updated list following the break.