Ever Have Trouble Canceling a Free Trial?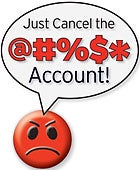 Ever sign up for a free account? Did you have trouble canceling the account? Or did you end up paying for it a few months first? I've heard horror stories from many former AOL users, as an example, AOL will still charge you for the first month of the free trial if you cancel, and you have to actually request the refund or they won't send it back. What does free trial really mean to AOL? True. COM?s cancellation process goes to a link that says suspend with a very small cancel link, so he actually only suspended it and it continued charging him 7 days later. These places make it hard to cancel your accounts in the hope that fewer people will try to cancel them. "Easy to sign up, hard to get away from, that's our motto!"
It took me less than 5 minutes to sign up for a NetZero dial-up Internet account. But after canceling that account, I spent a week trying in vain to reverse a charge that the service levied after my cancellation request.

I had to call NetZero a total of five times, holding for several minutes and then enduring long and fruitless conversations with company agents every time I called. According to the NetZero representatives that I spoke to, I needed to talk to a supervisor to arrange a credit, but none was ever available when I called. In the end, I gave up and let NetZero keep the money. Source: PCWorld
They have some good tips on how to cancel your accounts at the end, like always ask for a refund, AOL, ESPN and EarthLink only give refunds if they are asked for. Who gave the biggest hassle? AOL, BlueMountain.com, Classmates.com, ESPN, MSN Internet, Napster.com, NetZero, Real Rhapsody, Real SuperPass, and True.com, in alphabetical order.